It's the end of April 2020. We are all locked down, in quarantine, and most of us are unable to go to work. Every day at 3:00 pm, the governor has a press conference to tell us how the crisis is evolving. At 4:00 pm we then hear from the national task force that discusses the progress in the United States. The St. Louis Fed estimated 35% of the Midwest is unemployed. Why then, is NOW the best time to buy a house in Chicago?
In this article, we will discuss several factors contributing to an investor-friendly market in Chicago. By the end of this article, you will see our data-driven approach to our outrageous claim: Now is truly the best time to buy! First, we will discuss the Case-Shiller Price Index for Chicago and how the market suggests we were already undervalued. Second, we will examine the median rental in Chicago to talk about the cash-flow prospects. Third, we will take a look at the current inventory to show that this is truly a buyer's market. Finally, once you see our numbers, you will see how to be ahead of the curve with your investments. Right now, Spring 2020, is the best time to buy a house in Chicago in years!
Our Market is Undervalued! – The Best Time to Buy a House is When the Bargain is Right!


If you're an amateur investor, you might not immediately see why now is the best time to buy a house in Chicago. Right now, the 20-City Average index and the National Home Price Index are very close to each other. For both, a 3 bedroom detached single-family residence costs approximately $210,000. However, Chicago lags tremendously behind at approximately $145,000 for the same type of house! Succinctly, 2020 Chicago real estate is the same cost as 2004 real estate. The current circumstances artificially let you get into the market as it was over fifteen years ago.
Think of What You're NOT Paying For
If you buy a home right now, anywhere else in the country, you are probably paying fair market value. If there is one thing any investment buyer should avoid, it is paying fair market value or above. To this end, we have to consider what we are paying the seller. Sure, we are buying the house. But, you are probably paying the property's current owner for all their appreciation. Then, you are probably losing the opportunity to grow your investment by capitalizing on the recovery. Finally, at best, you are probably breaking even on costs vs cash-flow. Here, in Chicago, it is the best time to buy a house because we are 35% undervalued compared to the rest of the country. Chicago buyers will not have to pay the seller for all this additional value that they can get for themselves.
So, now is the best time to buy a house because the property costs only 65 cents on the Dollar. Not only are you buying ahead of the national market, but you are also buying ahead of similar urban markets. Additionally, you getting in before the summer recovery happens once we get back to work. Now is the best time to buy a house because the home you're buying is the cheapest it's been in a decade.
It's the Best Time to Buy a House – Because It's the Worst Time To Rent!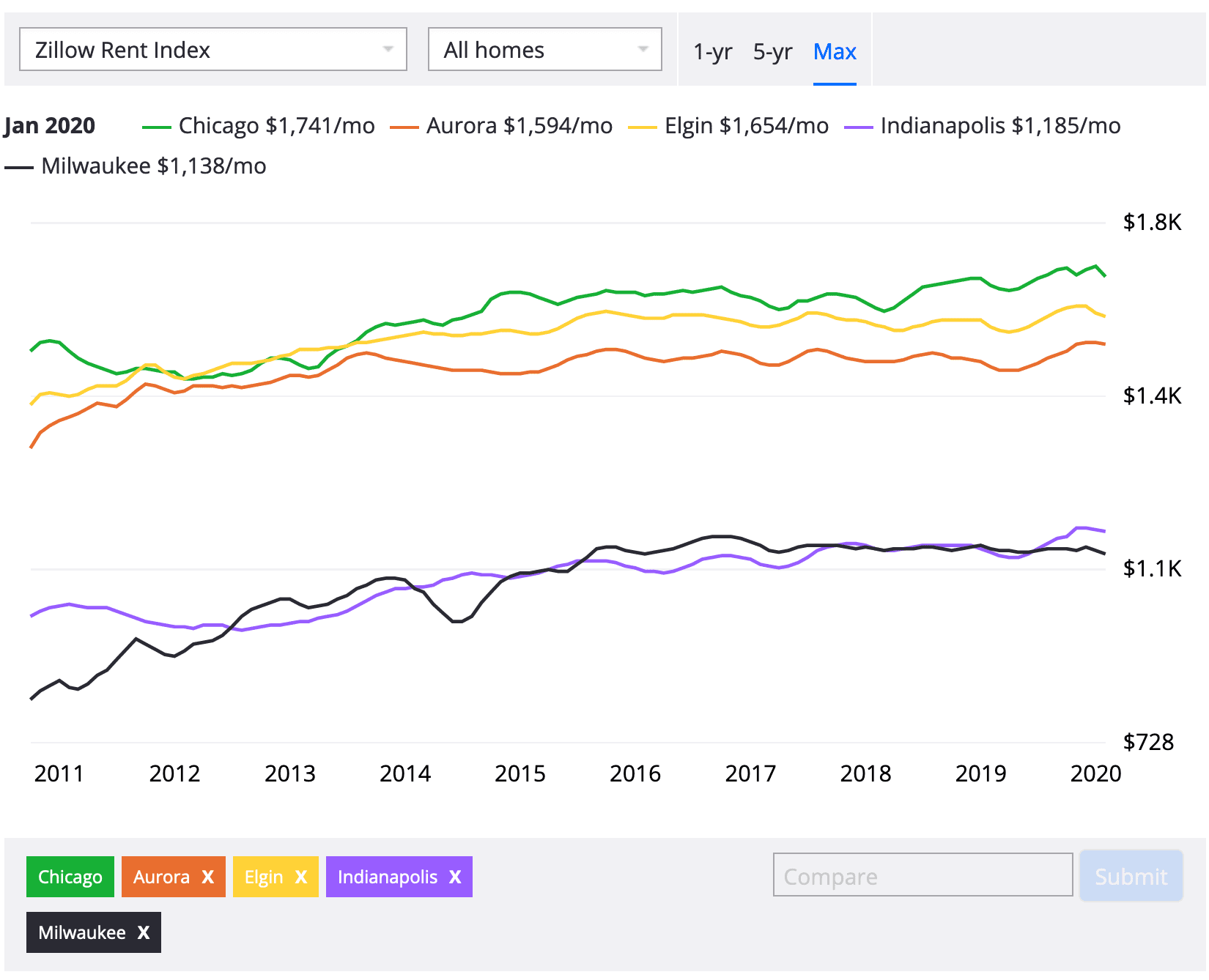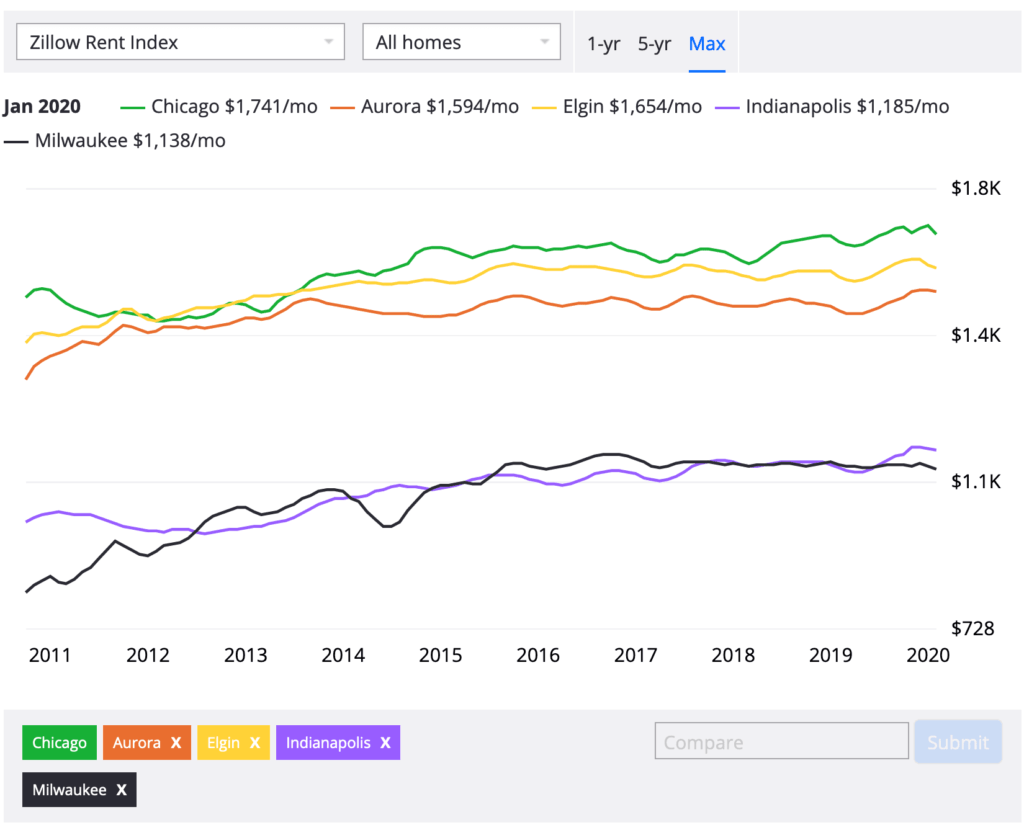 Right now, I live in a 2 bedroom apartment above a hair salon in a Chicago suburb. I pay $1,250/mo for this apartment, and I think I've got a steal. According to this chart, I have a major steal. In Chicago, I should expect to pay $1700 for a two-bedroom apartment! In Aurora Illinois and in Elgin Illinois, I'm still paying more than $1600 per month! It's the best time to buy a house because it is the worst time ever to rent.
Investors
Now, most of my readers are investors rather than renters. If you are an investor, I'm going to make a business appeal to you here. Investors, right now you can buy this asset for 65 cents on the dollar of its true value. Further, you can sell the use of it for $1.50 for every $1 its worth. You, the investor, are profiting on the buy, profiting on the cash-flow, and profiting on the sell. I can't find anywhere else on these two graphs where rent was high and the price was low. We cover more about our cash-flow strategy in our newsletter and our Ultimate REI Guide. This is the best cash-flow opportunity we have seen since 2012. April 2020, in the middle of the coronavirus pandemic, is the best time to buy a home in a decade.
Renters
For those currently renting with the funds to buy now is the best time to buy your first home. The value you get from renting is at an all-time low. The average home in Chicago is worth $145,000 and the average monthly payment is well over 1% of that value.
Take a property with a $180,000 conventional mortgage. As I write this article, prevailing interest rates are about 3.8% on a 30 year. For a traditional mortgage of $180,000, the monthly payment ought to be about $1,400.00 in principal, interest and tax. This means rent is 120% of the cost of a mortgage! Renters, almost all of us are overpaying! Financially, the best housing decision you can make is to bite the bullet and buy. And, again, the best time to buy is now.
Homes Have Been on the Market Too Long and Sellers are Getting Anxious!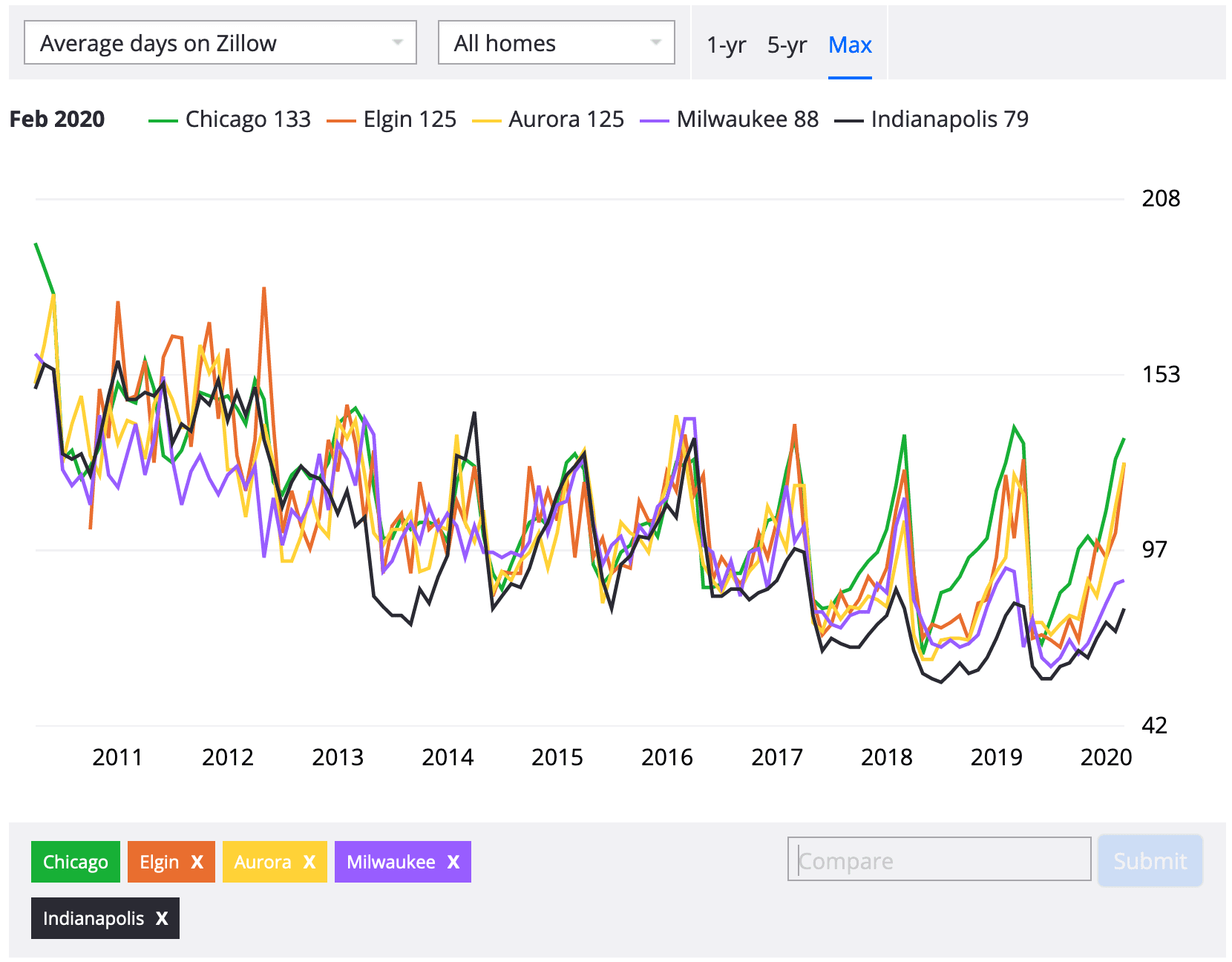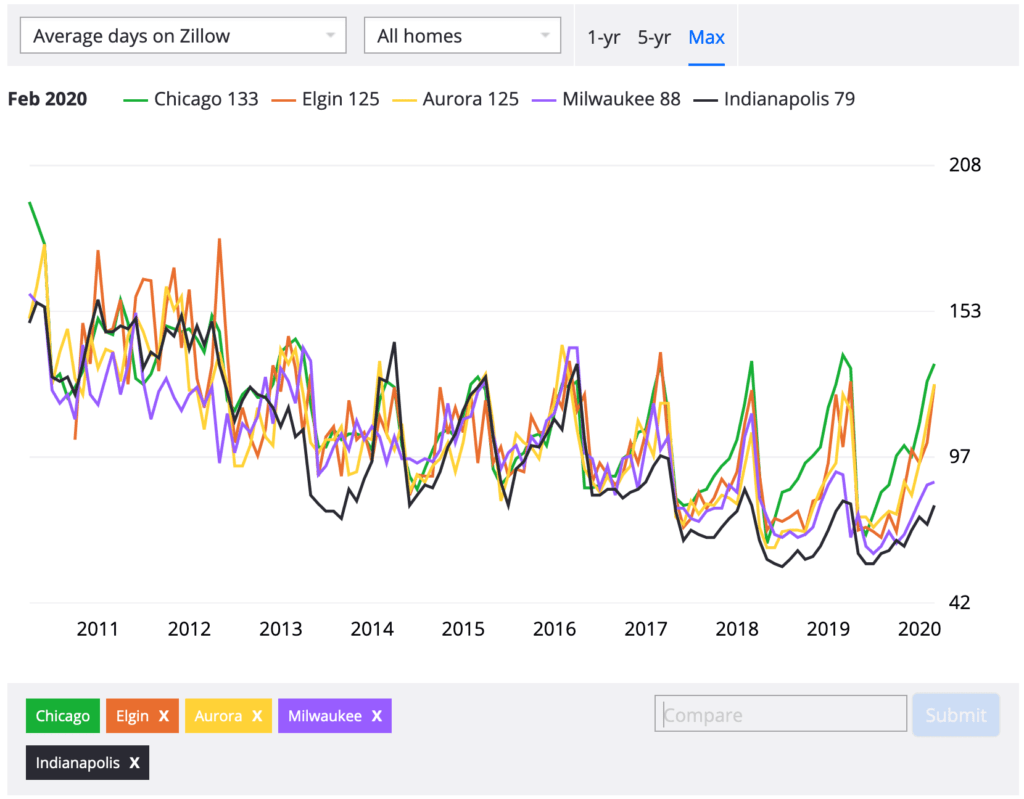 Here, this graph will show you that homes have not been on the market this long in Chicago since 2011! It is the best time to buy in Chicago because, on average, sellers have been holding their homes for months! Even still, this data is from March 1, 2020, and there are few active buyers now. This means these numbers could well be revised 50-60 days higher in the months to come. Once we know the true effect of COVID19, we could see that April 2020 was the highest inventory in decades.
Leveraging the Buyer's Market for the Best Time to Buy a House
You may ask, why is the time on the market so important to determining the best time to buy? In the summer of 2019, we saw the best seller's market we saw in a long time. Most homes my office worked on had multiple same-day offers. One property I worked on had 3 offers, 1 sight-unseen, within 8 hours of a listing going live! In those situations, buyers have very little leverage because the money is being thrown at the seller. This is not that situation.
As we stand, it is the best time to buy a house since 2011, because sellers can't sell. When a seller decides to sell, they sell because their life is pushing them into a position to move on. Sellers need to relocate for work or find a bigger space for their family. Some look toward downsizing, maybe with retirement in mind. These are all life events that can't be put on hold indefinitely. Expectedly, no seller wants to pay four months of expenses while their life moves on.
For you, the buyer, now is your chance. These sellers that have been holding onto these properties for four months are getting antsy to unload their investments. With the uncertainty from COVID19, many sellers are overestimating the economic hit to their situation. Now is an amazing time to capitalize on their anxieties by buying the property for less than it is worth. Now is the best time to buy a house.
Our Economy is Healthier Than You Might Think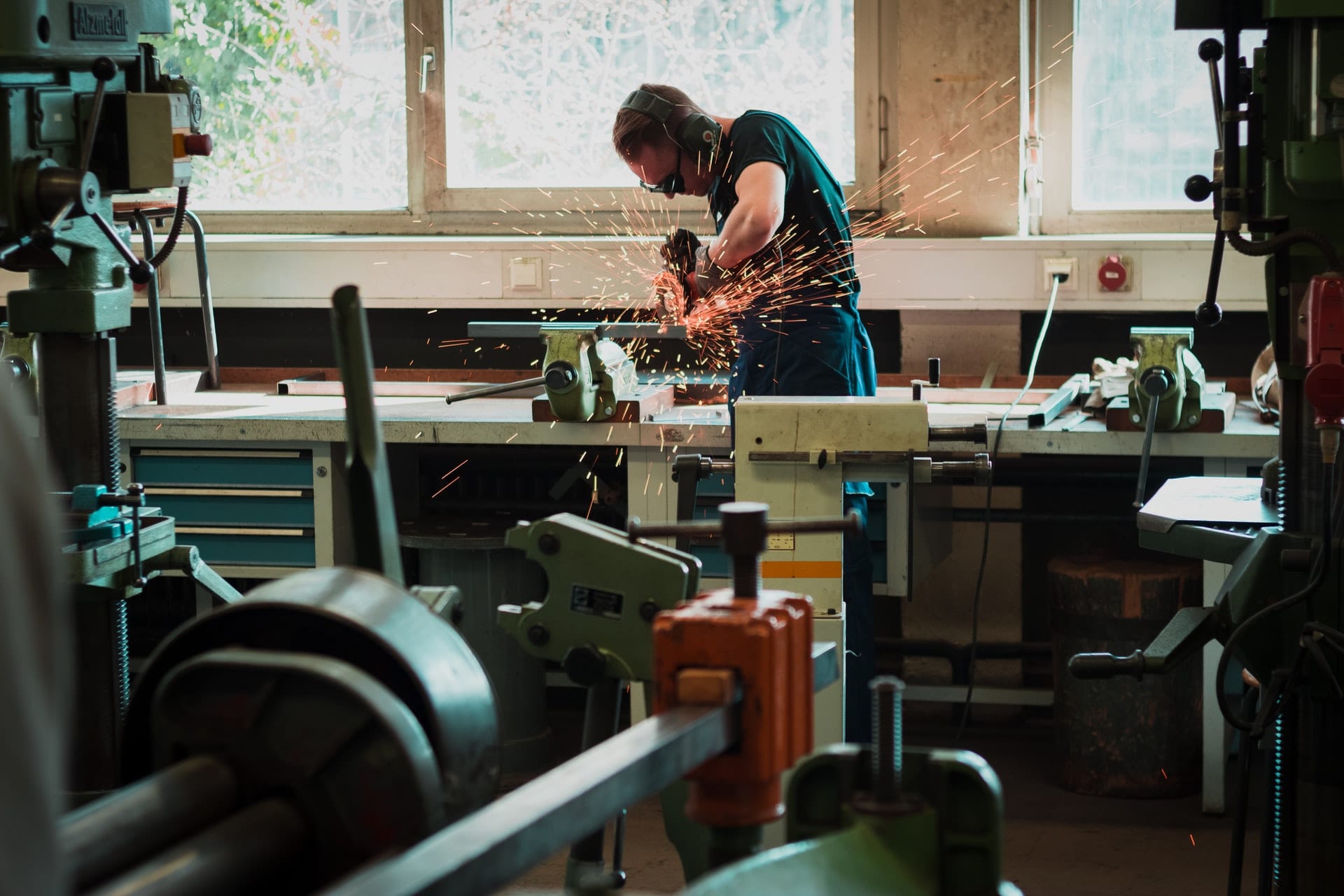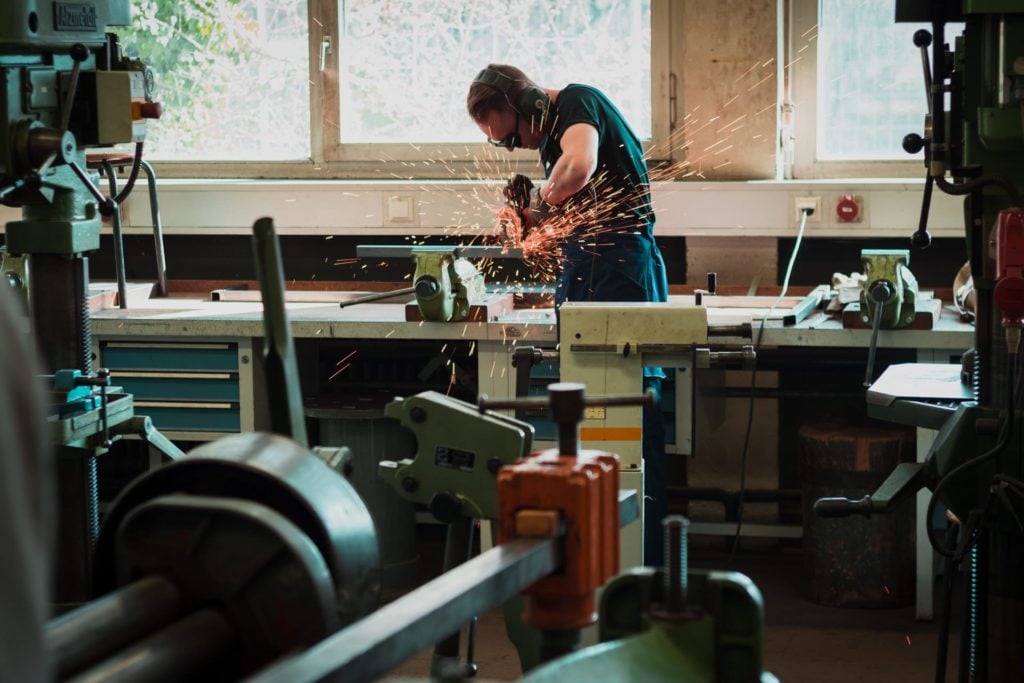 First, when we look at the last six months of labor statistics, we see a remarkably healthy local economy. Our local economy has a 6 month average of 3% unemployment. Now, when we look at March, we see the black swan event of COVID19 that has led us to high unemployment and shut-downs. This sea-change means fewer buyers are competing with you. So, fewer people are in the market now than have been in years. If you're a Spring 2020 buyer, you have the leverage to pull the seller to you. You should have a leg up at negotiations to avoid giving the seller what she wants.
Think of it this way. If a seller says no to a buyer, she has some confidence there is another buyer coming. Now, we are in a timeframe where that assumption is dangerous! The confidence that another buyer is going to appear is overconfidence. That makes you, the buyer, the prized commodity in this real estate transaction. Therefore, the buyer holds the cards in this negotiation. When the buyer holds many of the cards, it's a great time to buy. When the buyer seems to hold all the cards, it is the best time to buy.
This Opportunity Can't and Won't Last
Earlier, I showed a number of graphs and said that this is the best time to buy since 2012. Truth be told, I think that line of thinking is wrong. I think 2012 to the present has been the best time to buy in Chicago over the last few decades. Chicago has never really recovered from its real estate crash in 2013. The value is still there for those who want to seize it. If you buy now, you're buying at the best time during the best few years to invest. But, circumstances like these are fragile, and the Windy City never stays down for long.
Therefore, I am proclaiming that now is the best time to buy a house in Chicago! We are in a situation where the data all agree that the market is undervalued. This market is more profitable than it should be, the competition is sparse, and the other side is motivated to sell. The buyer holds all the cards in Spring 2020, and the wise investor will move in the near future to expand her portfolio.
Consider if you can pull the trigger on your next investment now, because you'll never get it at a better deal.