Need to sell a house in Tinley Park, Illinois? With so many houses on the market, it can be hard to know where to start. Luckily, there is an easy and cost-effective way for you to sell your home without having to deal with any real estate agents. This guide will walk you through how For Sale By Owner works in Tinley Park, Illinois, and how you can use it to sell your home quickly, sometimes without paying any commission. We'll show you how to get your Tinley Park water bill and mortgage payoff, make your real estate disclosures, sign your contracts, and sell. You'll also find out about the most common mistakes people make when selling their homes FSBO!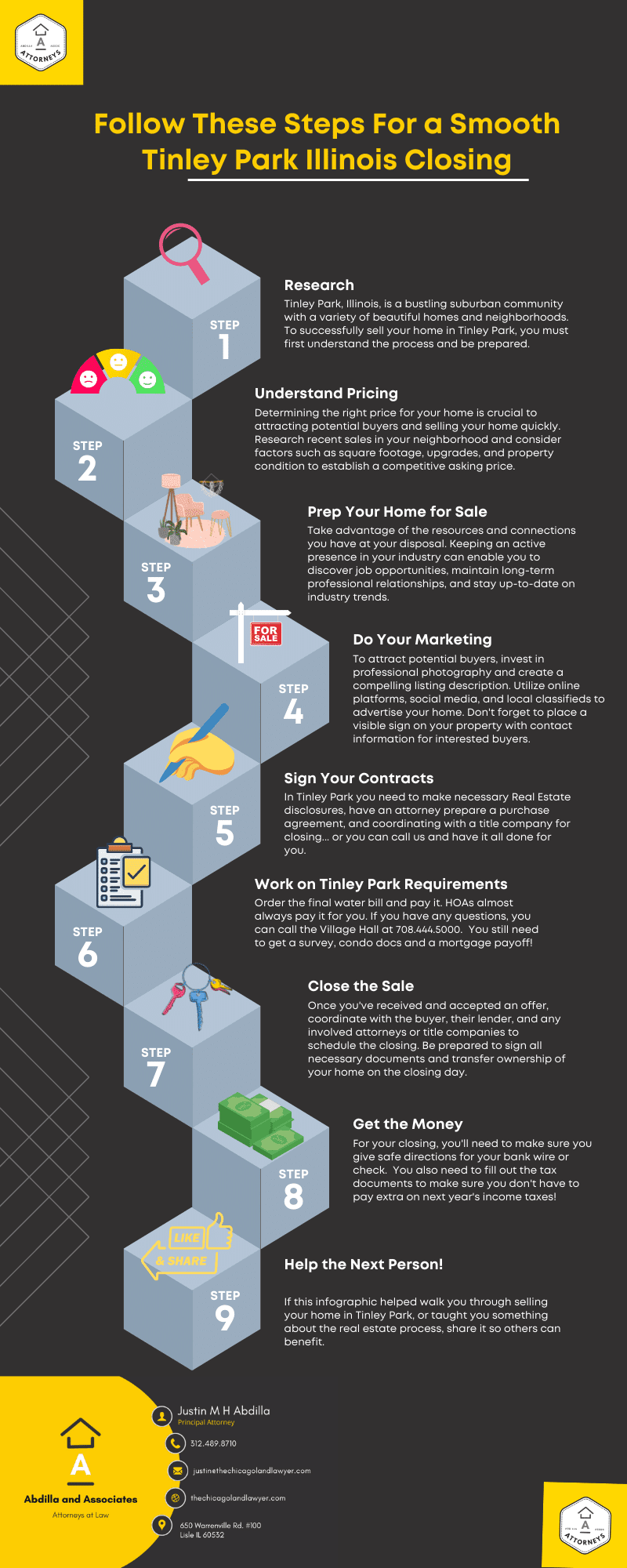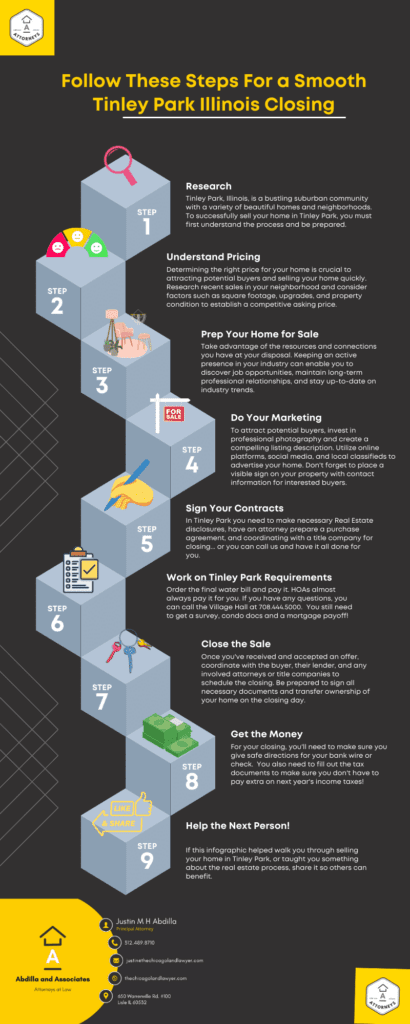 Many homeowners do not know how to sell for sale by owner. Some may even be misinformed about the process, thinking that they will have to pay a high commission fee and still end up with less than what their house is worth in the end. This article has tips from real estate experts who are familiar with FSBO sales in Tinley Park, Illinois.
Why Do So Many People want to Buy in Tinley Park?
There are many beautiful homeowners associations in Tinley Park, Illinois. Many of them — Ashford Manor, Avondale Meadows, Brementowne, Bristol Park, Caledonia, Cambridge, Cherry Hill, Chestnut Ridge, Eagle Ridge, Fairfax Court, Grafton Place, Grissom Drive, Hamilton Hills, Leytonstone, Mansfield, Millenium Lakes, Oak Village, Old Tinley Arms, Park Place, Park Venture, Pheasant Chase, Pheasant Lake, Ridgepointe Woods, South Pointe, Steeple Run, The Pines, Tiffany Park, Timberland Trails, Tinley Arbors, Town Pointe, West Point Meadows, Westberry, Westwind, and Whispering Cove have record high prices.
Great Advice for Buying a House, Free Consultation
Tell Us About Your Dream Home
Award-winning community: In 2009, Tinley Park was named the "Best Place to Raise a Family" in America by BusinessWeek magazine, thanks to its strong community, excellent schools, and low crime rate.
Historic downtown: Tinley Park's downtown area, known as Old Town, is home to a collection of historic buildings, local businesses, and community events. The area has been revitalized over the years to preserve its charm and history.
Outdoor recreation: Tinley Park boasts over 420 acres of parkland and more than 30 parks, offering residents and visitors plenty of opportunities for outdoor activities, such as hiking, biking, and picnicking.
Music and entertainment: The Hollywood Casino Amphitheatre, a large outdoor music venue, hosts popular concerts and events throughout the year, attracting thousands of visitors to Tinley Park.
UFO sightings: In 2004, 2005, and 2006, Tinley Park experienced a series of UFO sightings that drew national attention. These mysterious events have become part of the town's folklore and have attracted curious visitors to the area. In 2023 with all the UFOs in the news, it's more interesting than ever.
White Water Canyon Water Park: This family-friendly water park, operated by the Tinley Park-Park District, offers a variety of water attractions, including a lazy river, a zero-depth pool, and waterslides, providing fun for all ages during the summer months.
Annual events: Tinley Park hosts a variety of annual events, such as the Benches on the Avenue public art program, the Tinley Park Brew and Vine Festival, and the Downtown Tinley Block Party, fostering a strong sense of community and attracting visitors to the area.
Transportation: Tinley Park is served by the Metra commuter rail system, providing convenient access to downtown Chicago and surrounding suburbs, making it an ideal location for commuters and families looking for a suburban lifestyle with easy access to the city.
Step One: What Shouldn't I Do?
One of the most common mistakes people make when selling their homes is not doing enough research. You need to know exactly what you're getting into before jumping in, and that means knowing how much your home will sell for after all expenses are accounted for. Knowledgeable real estate professionals, including brokers and lawyers, can help you get the most bang for your buck.
The second mistake people often make is only reaching out to one real estate agent. Did your agent tell you to get the survey, Tinley Park water bill, and condo docs before you close? Ideally, you should speak to at least three agents before deciding on which one has the best idea of value. Not every strategy is good for every FSBO home. The last mistake is not making the home attractive enough to buyers. You should stage the home before putting it on the market to make your property more desirable than those around it.
Great Advice for Selling a House, You Pay No Additional Costs!
$0 Attorneys Fees on Sales
Step Two: What Should I Do for FSBO success?
One of the first things you should do when deciding to sell your home FSBO is to get a lawyer. A knowledgeable real estate attorney will help you through every step, and make sure that everything goes smoothly. The next thing you should do is gather all your paperwork. This includes copies of the deed, lien information, and any other important documents. Your knowledgeable real estate attorney will help you get title insurance on your property so that your buyer has more confidence in what they are buying. For single-family homes, you'll also need a survey.
Next up is getting a great photographer who knows how to capture those stunning pictures buyers are going to want. You want to make sure that your home looks its best, and a professional photographer will be able to do just that.
Then, you should make a list of necessities. This includes everything from pest control to lawn care. The more work that is done before placing your property on the market, the more attractive it will be for buyers.
Step Three: How Do I Sell My House FSBO in Tinley Park Illinois? How do I Get the Tinley Park Water Bill?
Now that we've covered price, legalities, and sales – let's talk about how to get to closing. If you have got an offer and agreed on a price, a property, and a date, start reading here. Just know in Tinley Park, the water bill is the only city requirement.
First, you'll want to order a real estate survey unless you're in a condominium, like Brookside Place or Clearview. A survey tells you where your property lines are and who can use your land. Surveys are good to know where the telephone and gas lines are located. But, surveys can reveal big problems like bad fence lines or even buildings situated on the wrong land. Those are rare, but in this business, you can never be too careful.
Next, you'll look to get your mortgage payoff. For most lenders, you can get one of these by just calling your bank. Both purchase loans and any home equity loans are pretty easy to find, and your lawyer can help. If you have an old HELOC, then you'll need to get the lien release. We can't sell a house until we take care of all mortgages.
Then, if you're in a Tinley Park condominium association, you'll need to get a Paid Assessment Letter from your homeowner's association. We've already covered how to do this at length, and your attorney can get that for you.
Step Four: 2022 Real Estate Disclosures
The next thing you need to do is get your real estate disclosures in order. In the state of Illinois, these are pretty simple. You'll just fill out a Residential Real Estate Disclosure Form and give it to the buyer. This form covers any material defects that you know about the property. If there are any, you'll have to write them down on the form. You should also give the buyer a Lead-Based Paint Disclosure Form if your home was built before 1978. In Illinois, we also have to give the buyer a Radon disclosure form. The Radon disclosure form is required because most of Illinois used to be underwater during the Jurassic period and as a result many toxic chemicals accrued in the ground. If Radon is over 4 parts per million, you'll have to notify your buyer, and usually make some costly repairs.
You can get these forms from your local library, or online, or you can just tell me to handle it.
The last thing you need for disclosures is a copy of the Community Association Rules and Regulations if you live in a community with an HOA. You should get these from your association, or normally we do this for clients.
Step Five: Tinley Park Water Bill and Local Requirements
Tinley Park is an easy city for an FSBO client. To sell for sale by owner in Tinley Park, Illinois all you have to do is order the final water bill and pay it. If you have a condo/HOA, they almost certainly will pay it for you. If not, you can go down to 16250 S. Oak Park Ave. Tinley Park, IL 60477-1600. If you have any questions, you can call the Village Hall at 708.444.5000 or visit them online at www.tinleypark.org.
Great Advice for Selling a House, You Pay No Additional Costs!
$0 Attorneys Fees on Sales
Step Six: Closing and Selling your Home in Tinley Park Illinois
Once you've paid your water bill, we can schedule the closing. This depends on when the buyer will close which is usually within 30 to 45 days of signing the offer contract for FSBO homes. That's why it's important to keep an eye out for these issues in advance. If you don't stay on top of your transaction, you'll end up waiting ages for third-party approvals in the transaction. By carefully following this guide, you'll pay off all the debts on the property, extinguish your liability as best as you can, sell your home and have the smoothest transaction. If you're interested in more, I've put a form below for you to contact us to start the process.
Further Reading and Real Estate Guides Near Tinley
Villa Park For Sale by Owner Guide – a neighborhood in the west suburbs with a similar character.
Round Lake Park For Sale by Owner Guide – A northwestern suburb with a great neighborhood feel.