Are you a tenant or landlord in Chicago looking for an RLTO lawyer or eviction attorney? You need to get familiar with the Residential Landlord and Tenant Ordinance. In order to understand your rights and responsibilities, you need to memorize this article. There are so many aspects of real estate law here, they're all new, and violations can swing cases by thousands of dollars. Here, in this easy-to-understand guide, as eviction attorneys, we'll cover the basics of the RLTO and its impact on Chicago rentals. Please note that this is part five of a five-part series, covering notices, the early resolution program, tenant's rights and common landlord lawsuits.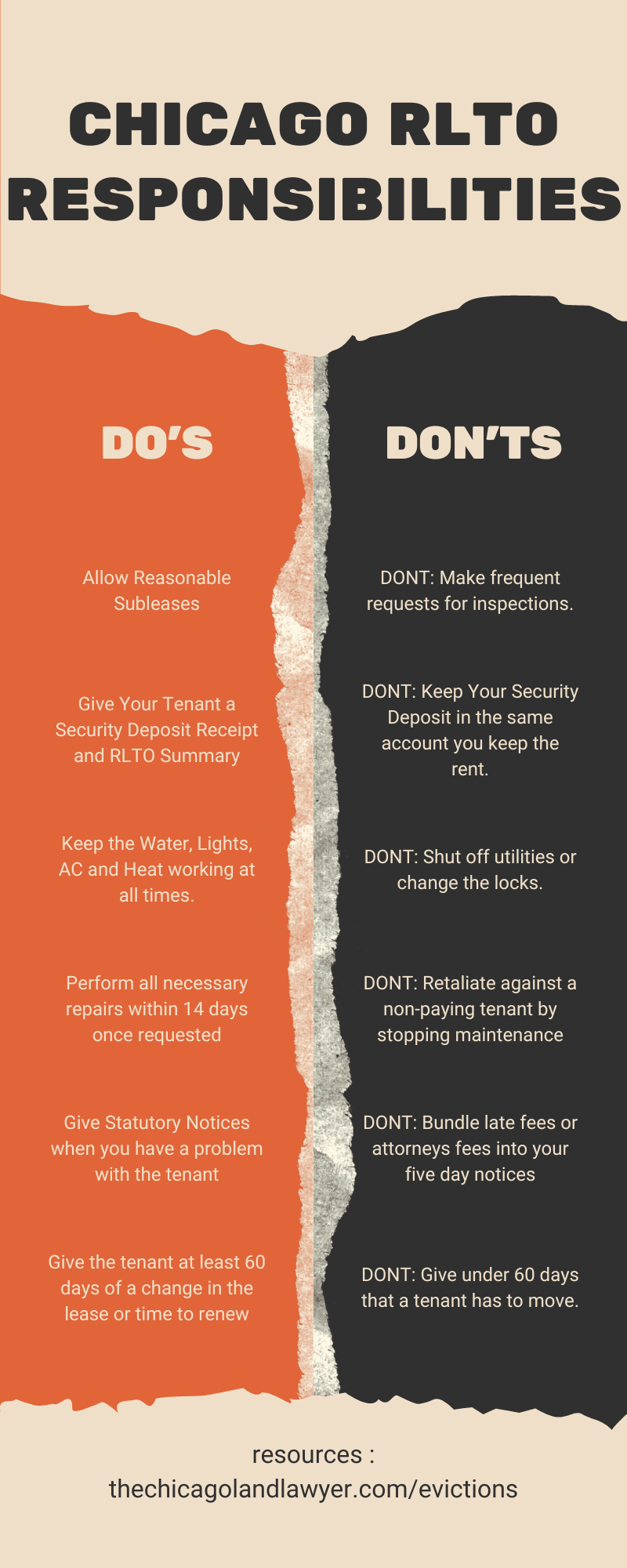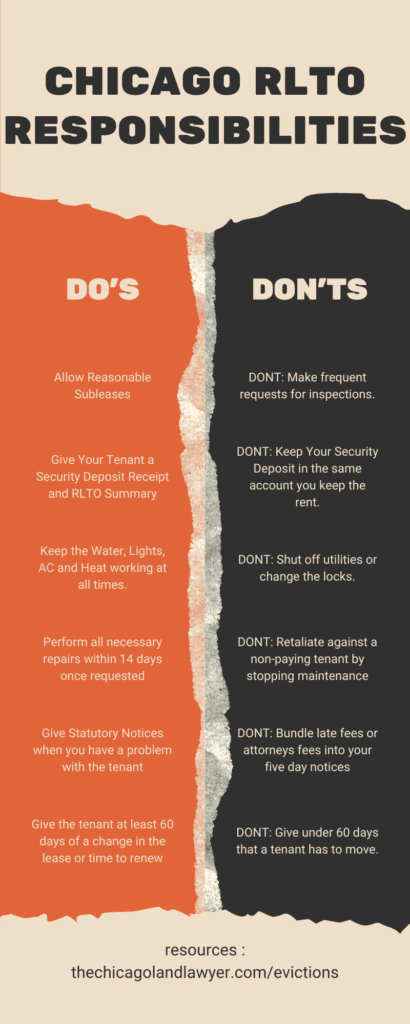 Which Rental Units Are Covered by the RLTO? – Does the RLTO apply to me?
The RLTO applies to rental units with written or oral leases, including subsidized units like CHA, IHDA, and Section 8. However, there are some exceptions:
Units in owner-occupied buildings with six or fewer units
Units in AirBnB, hotels, motels, and rooming houses (unless rented monthly for more than 32 days)
School dormitories, shelters, employee's quarters, and non-residential rental properties
Owner-occupied co-ops and condominiums
You Could Get Your Own Lease, Once and For All, For $250
An Attorney Drafted Lease Will Save You From So Many Lawsuits
What Does a Tenant Need to Do Under the RLTO
Tenants have certain responsibilities under the RLTO, including:
Providing working batteries for smoke and carbon monoxide detectors
Keeping the unit clean and safe
Using equipment and facilities reasonably
Not damaging the unit deliberately or negligently
Not disturbing other residents
Not committing crimes.
Landlord's Right of Access – When Can a Landlord Show the Property or Do an Inspection in Chicago?
Under the RLTO, a tenant must allow reasonable access to the landlord with two days' notice. In case of emergencies or unexpected repairs, the landlord must provide notice within two days after entry. Emergencies and unexpected repairs are things like a burst pipe – they are not things like a last minute showing.
Security Deposits and Prepaid Rent – 1.5x Monthly Rent Maximum
Landlords must follow certain rules regarding security deposits and prepaid rent:
Provide a receipt for the security deposit
Hold security deposits in a federally insured, interest-bearing account in an Illinois financial institution
Pay interest on security deposits and prepaid rent held for more than six months
Provide an itemized statement of damages within 30 days after the tenant vacates
Return security deposits and required interest within 45 days after the tenant vacates
Landlords have several responsibilities under the RLTO, such as:
Providing contact information for the owner or manager
Notifying tenants of code citations, pending actions, and utility shut-offs
Maintaining the property according to the Municipal Code
Not requiring tenants to renew agreements more than 90 days before the existing agreement terminates
Not enforcing prohibited lease provisions
Educating tenants about bed bug prevention and treatment
Providing a heating disclosure
Giving the tenant documents and receipts that are necessary under the law.
Tenant Rights and Remedies for Minor and Major Defects
If a landlord fails to maintain the property, tenants have various remedies, depending on the severity of the issue:
For minor defects, tenants can request repairs, withhold rent, or file a lawsuit
For major defects, tenants can request repairs and terminate the lease if not completed within 14 days
Failure to Provide Essential Services under the RLTO – No Heat, No Water, No Power?
If a landlord fails to provide essential services, tenants can take action by:
Procuring substitute services and deducting the cost from rent
Filing a lawsuit for damages
Procuring substitute housing and withholding rent
Withholding rent if the landlord fails to correct the issue within 24 or 72 hours
Fire or Casualty Damage – What does the RLTO say about my house burning down?
In case of fire or casualty damage, tenants can:
Terminate the rental agreement if they move out immediately
Reduce rent if they stay in the unit but cannot use a portion due to damage
Terminate the rental agreement and move out if the landlord fails to diligently carry out repairs
Subleases: Know Your Rights
Chicago's Municipal Code Chapter 5-12-120 covers subleases. As a tenant, you have the right to offer a reasonable subtenant to your landlord without any additional fees. If you need to move before the end of your rental agreement, your landlord must make a good-faith effort to find a new tenant at a fair rent. Should your landlord fail to find a new tenant, you'll still be responsible for the rent and any advertising costs. So, as a landlord, you must accept a good sublease tenant at a fair rent. Therefore, we recommend stating that sublessee tenants are required to show 30% DTI on the rental agreement and have a credit score of 700+.
Late Rent Payments and Fees
If you pay rent late, according to Municipal Code Chapter 5-12-140(h), your landlord can charge a late fee. For rents under $500, the fee is $10. For rents above $500, the fee is $10 plus 5% of the amount exceeding $500. Crucially, the late fee can't be higher, you cannot waive this section, and if you are a landlord charging these late fees that are too high, you'll get sued.
Paying Rent After a Termination Notice Expires – Can a Landlord Accept Partial Payments?
If you pay your rent after the termination notice's time period expires, your landlord can still accept the rent knowing you defaulted on payment, according to Municipal Code Chapters 5-12-140(g) and 5-12-130(g). In this case, you'll be allowed to stay. So, if you're a Landlord, please know that you cannot accept a partial payment in Chicago.
Get em Out!
Chicago Eviction Lawyers Giving Free Consultations
Landlord Remedies for Tenant Violations under the RLTO
If you fail to pay rent or comply with the rental agreement or the Municipal Code, your landlord has certain remedies, as outlined in Chapter 5-12-130. Depending on the violation, you may have a chance to correct it before your rental agreement is terminated. We go into immense detail on 5-day, 10-day and 30-day notices in this article.
Nonpayment of Rent
Your landlord can give you a five-day written notice to pay rent. As tenants, if you pay the back rent and court filing fees before a judge issues an order of possession, you can stay. However, if you use this provision and receive a second notice of nonpayment, you'll only have five days to pay the unpaid rent.
Other Code or Rental Agreement Violations (Pets, Damages and Unauthorized Occupants)
If you don't comply with the Code or rental agreement, your landlord can give you a 10-day written notice to correct the violation. Then, if you don't correct the violation, the rental agreement may be terminated. Your landlord can also request that you correct certain breaches within 14 days or as soon as possible in emergencies. So, for landlords, if the tenant doesn't correct, you can enter your dwelling and make the necessary repairs, charging those costs to the tenant.
Lockouts – Why the RLTO says you can't change the locks, take the doors off, bar the windows, or shut off the water.
Lockouts are illegal in Chicago, and the Police Department enforces this rule. Further, it's against the law for a landlord to lock out a tenant, change locks, remove doors, or cut off essential services. Landlords found violating this rule can be fined between $500 per day. Moreover, tenants can sue the landlord for possession of the unit and damages. Remember, this is a tremendously expensive lawsuit and this firm has filed lawsuits seeking more than $25,000 in damages based on long-term lockouts.
Tenant Rights: The RLTO's Prohibition on Retaliation
Tenants can freely express concerns about their tenancy without fear of retaliation from their landlord, as stated in Municipal Code Chapter 5-12-150. So, this means that Landlords cannot retaliate by terminating a tenancy, increasing rent, decreasing services, threatening eviction, or refusing to renew a lease. Therefore, if you tell your tenant "I'm not fixing anything while you're not paying rent" you're going to get sued.
Attorney's Fees and the RLTO
The prevailing plaintiff in any case related to the RLTO, except eviction actions, can recover court costs and reasonable attorney's fees as per Municipal Code Chapter 5-12-180. Accordingly, if the Landlord wins, no attorneys fees – but the tenants do get attorneys fees if they win.
Where to Find the Ordinance
You can find a copy of the RLTO at the Office of the City Clerk or the Harold Washington Library.
Get em Out!
Chicago Eviction Lawyers Giving Free Consultations